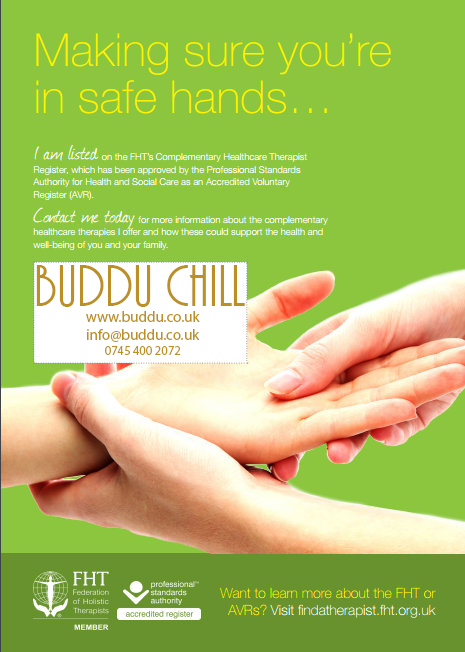 Welcome to Buddu Chill
Janine Lingard (MFHT) Sports Massage & Holistic Therapist since 2001.
Qualifications
I am regulated and on a register accredited by the Professional Standards Authority. The Accredited Registers quality mark gives extra peace of mind for anyone looking for a complementary healthcare therapist, letting them know that anyone who holds the mark is committed to high standards.
Accredited Registers programme was set up by the Government to improve standards and safety for the benefit of the public.
Accreditation demonstrates your commitment to high professional standards, enhancing safety and delivering a better service.
Some Insurance companies will cover treatment cost. Check whether your policy covers the complementary healthcare therapy you wish to receive.
Located in the center of Accrington on the balcony in the Market Hall with parking and transport facilities. Lift access also available and Buddu is accessible for people with limited mobility. See what others have to say.
Client Reviews
Formerly of Therapeutic Touch Health (2001-2005) I returned from Spain in 2010 with the aim to continue to help individuals receive and incorporate Complementary Therapies into daily life benefiting and helping numerous complaints within the physical body for health and general well-being.  My aim is to provide therapies that can of course primarily help with whatever you present with but a treatment plan that you do not become reliant on this, but can incorporate into your life as a preventative measure and maintenance. I offer a range of therapies and adapt treatments to suit individual needs in a relaxed non-clinical environment.
Treatment Description
Prices
A full consultation is carried out prior to treatment, if you are unsure and would like to have a chat first please contact me.
Contact Me
I encourage clients to listen to their own bodies therefore you are under no obligation to have a treatment at my practice should you not resonate with me or the environment. Please read the link below.
What to expect
Terms and Conditions