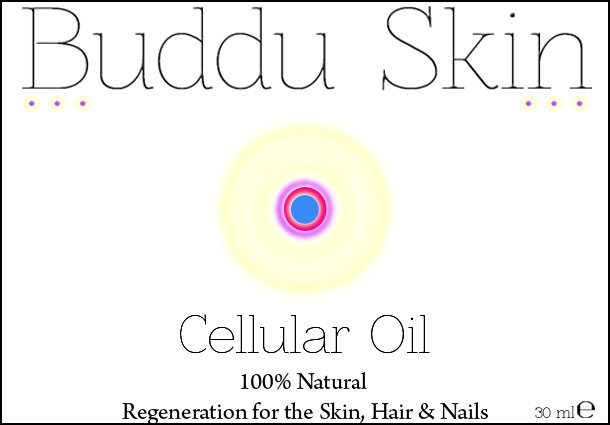 Cellular Oil
This has been developed from working with a client with cosmetic scarring. As an Aromatherapist using carrier (base oils) to mix essential oil blends, I have always worked with a high quality grade base oils such as Almond Oil or Grapeseed that I use in my massage treatments.  I have tried numerous brands and I can distinguish between a good quality oil to a bad one. The textures and absorption along with the chemical structure of essential oils is crucial to make a chemically bound blend that is suitable to use on clients skin. It is important to me that when I am massaging clients that the biggest organ on the human body is being taken care of.
What I put on my clients are only products I will put on myself. Over the years and trying many products and blends at high prices, nothing compares to my own blends and the skincare range I use at Buddu Chill for my Facials which is a highly reputable company Buddha Beauty.
As I have been working with the oil, I have noticed that in just one application, my skin instantly looks hydrated and more youthful in appearance, it is like it has been fed a healthy smoothie, with a glowing complexion and smoother touch, I have impressed myself so much, I am now sharing what I have created to benefit others.
I can look completely awful to a healthy glow in a few seconds and the bonus is I know what I am putting on and into my skin. The cellular oil is reviving helping with tired aged scarred skin and bringing it back to life again. Everyone is different and we all react differently so of course this has to be considered however judging by what I have seen with my own eyes I do really believe in this oil. I have been testing this product on a range of skin types particularly people with Acne which has been producing some very quick positive results and also as I have already said on cosmetic scarring.
What is in it?
Its what isn't in it that is important. Take a look at some of your products, how many ingredients, how many preservatives, how much of it is synthetic and how long is the list?
A product that isn't full of ingredients is more likely to be natural however my list is long but you will see that they are all listed in Latin names showing that in fact they are all natural. Products that may list ingredients like a foreign language (Latin names) indicates a more natural product. I can only speak for my product. The Cellular oil lists all base oils that I use to make the blend, there are no added extras just what there is in the bottle. It does contain NUTS. I am also working on a nut free oil for people with nut allergies.
Why are oil based products good for oily skin?
Ask Google this very question and you will get a huge amount of positive answers promoting oils for oily skin.
What else is it good for?
Its good for all skin types but especially for damaged, scar tissue, dry, dehydrated and aged. Feeding your skin with some nutritional food is what this oil is good for along with many other benefits. If it was a cleaning product it would be multi-purpose and save you buying a bundle of products. The only downfall is that it does contain nuts as they contain many healing properties. I am perfecting a nut free oil that will be just as good.
Uses
Cleanser: You can cleanse your face and remove makeup, grime, grease and dirt with this oil.
Moisturiser: you can use the oil as an oil based deep moisturiser overnight. You can apply it in the morning to give a refreshed glow to gives those cells a boost to regenerate sleepy skin.
Serum: Use it as an oil serum especially overnight to give the skin a deep intensive treatment. Apply one layer allow to absorb and then apply another. Oil will absorb into skin during your sleep.
Primer: this is trial and error. Does it work for you, it works for me but for some perhaps it wouldn't. I don't wear much makeup but even when I do I always use this oil base as it helps my lines not look so obvious because it is oil based. I find most products dry out my skin and makeup clings to the lines and makes it worst.
Cuticle softener: rub some oil in on cuticles to soften before removal
Nail Treatment: Rub 1-2 drops for 5 toe nails to nourish and help repair damaged nails
Hair Treatment: Apply oil to hair ends to nourish, condition and repair.
Body Treatment: Apply to skin especially dry and damaged areas.
This is still being developed so design is in its early stages. So I have given you the ingredients so you can make your own… well you could try but like a good Italian Pizza there is a secret that only I know and I can't possibly tell you. Bon Appétie – its not for eating….yet!
Ingredients: Adansonia Digitata (Baobab Oil )​,
Borago Officinalis​ (Borage Seed -Starflower  Virgin Oil),
Camelina Sativa (Camelina Oil ),
Carthamus Tinctorius (Safflower Oil), ​
Macadamia Ternifolia (Macadamia Nut Oil),​
Prunus Armeniaca (Apricot Kernel Oil),
Prunus Dulcis (Almond Oil),
Persea Gratissima (Avocoado Oil),
Vitis Vinifera (Grapeseed Oil)​,
Triticum Vulgare (Wheatgerm)
CONTAINS NUTS.
100% Natural