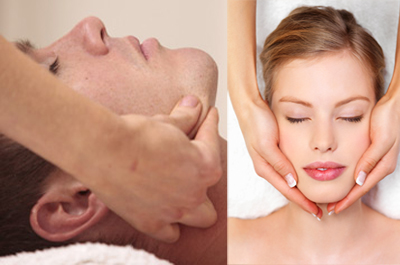 For him & her using natural products & essential oils of the highest grade blended specifically for your skin type.  There are so many harmful chemicals/environmental factors effecting the skin (the largest organ). Start taking care of it now & have peace of mind that what is being used in your facial is not harmful & will help to nourish, hydrate & moisturise.
See Buddha Beauty's full product range here
All facials include Buddha Beautys Aromatherapy massage facial oil of the neck, face & scalp (optional) & an eye treatment using  a refreshing Aloe Vera, Elderflower & Seaweed gel which is known to help with puffiness, dark circles & fine lines.
Cleansing Facial
By removing debris, makeup, perspiration, dirt and oil, one can ensure proper skin health and rejuvenation. In addition, cleansing helps to loosen the pores, eliminate blackheads and reduce clogging of the skin due to excessive dead skin cells. Regardless of skin type, proper deep cleansing allows for dry skin to become hydrated and allows for oily skin to remove the excess of oil.  Skin Cleansing is fundamental in ridding of bacteria which may infect the skin. By keeping the skin pores open, the skin can breathe easily and is less likely to become infected.
Treatment 30mins £30 add steam cloths £5
Exfoliating Facial
Skin exfoliation results in an immediate glow and feel of smooth and soft skin. Dead cells and dry skin cause blackheads and acne, which blocks the skins' pores. By removing these dead and dry cells through exfoliation, radiant, glowing skin will result. Exfoliation results in minimization of wrinkles and dark spots. In addition, it reduces ingrown hairs and gives skin and even tone. Exfoliation also results in the removal of discolored skin and blotchiness. The removal of dead skin cells and excess dirty and oil, through gentle skin exfoliation, is what will keep the skin, glowing, youthful and healthy.
Treatment 45mins £35 add steam cloths £5
Deep eye & face cleanse, exfoliation, Aroma Massage, tone, eye treatment & moisturise.
Moisture Mask
Facial masks treat your particular skin type or condition. If you're dry or dehydrated, the facial mask should hydrate your skin. If you're red or have inflamed areas, the mask should calm and soothe. If your skin is oily and congested, the facial mask can help draw out impurities from the skin.
Benefits
tighten and tone the skin
hydrate the skin
nourish the skin
draw out impurities
help blemishes heal
calm and soothe the skin
rejuvenate the skin
 45mins £35 add steam cloths £5
Deep eye & face cleanse, Aroma Massage, Aroma mask, tone, eye treatment & moisturise. While the mask is on you will receive a hand/arm massage, scalp or neck massage.
Buddu Facial
Combining all the above along with purifying steam towels this will not only leave your skin looking radiant but you will feel radiant to. While the mask is on you will receive a hand/arm or foot massage or scalp or neck massage.
60mins £40 (without steam towels)
60mins £45 (with steam towels)
CANCELLATION and CHANGE OF APPOINTMENTS
I understand that some situations cannot be controlled and you may need to cancel or rearrange your appointment. However I do require 24 hrs notice where possible. This allows the opportunity for someone else to take the appointment. If you do not give me more than 3 hours notice on the day of your appointment, a charge of £15 per hour may apply which will be payable before your receive any more treatment at Buddu.
Change of duration of appointment time notice is required as above.
If you book regular appointments in advance and you cancel or change them 3 times within (6 weeks) then you may lose your slot and not be able to book in advance. If you are not sure then book single treatments.
ARRIVING LATE
I plan my diary around the specified time booked. If you arrive late your session maybe shortened to accommodate appointments following yours; however payment of the "FULL FEE" still applies for the time that was booked. Where I can I do accommodate late arrivals. The time you book is the amount payable on the day of your appointment.
If I am running late I will notify you when possible and add the time on or refund the difference.
Payment
Cash or bank transfer. I do not accept cheques or have a card machine.
Please see full terms and conditions here
Important Information about your treatment
 If you have any sensitivities, allergies especially to nuts or you are pregnant then other base oils can be used.
All treatments can be adapted to suit what is right for you. Treatment descriptions are only guidelines to give you an idea what treatment involves. Each treatment is unique and although has a basic structure does change depending on the day how you are feeling and how the soft tissue structures are responding.
A full consultation is carried out on your first visit to ensure there are no contra-indications to prevent the treatment from taking place. If I am in a situation where I feel it is not within my scope of practice to treat you I will refer you on to the appropriate persons. If a doctors permission is required treatment will not proceed. All information is confidential so it is crucial that you do not withhold anything that may be relevant.  If you are unsure please ask.  When the consultation is complete you will be given time to prepare yourself for your treatment.
Read More →
It is important to choose a qualified massage therapist who has undertaken the necessary training to understand the theory and practice of this particular therapy.
Janine Lingard is a massage therapist, who is an FHT member, you can be confident that she is professionally trained, qualified and insured. Janine will also be listed on our Complementary Healthcare Therapist Register, as massage is considered a form of complementary healthcare. See link below.
FHT REGISTERED THERAPIST